Tug-of-war for early rain
Aung Thu Nyein
Myanmar Eleven May 22, 2015 1:00 am #block_media{ position:relative; display:block; clear:both; } #tab_photo,#tab_video{ display:inline-block; width:60px; height:auto; padding:3px; position:absolute; top:-25px; left:500px; text-align:center; background-color:#ccc; color:#000; cursor:pointer; z-index:0; } @-moz-document url-prefix() { #tab_photo,#tab_video{ top:-26px; } } #tab_video{ left:564px; } #block_media .tab_media_active{ background-color:#0c3e6f; color:#fff; } #slides_box,.box-vdo-top{ z-index:600; }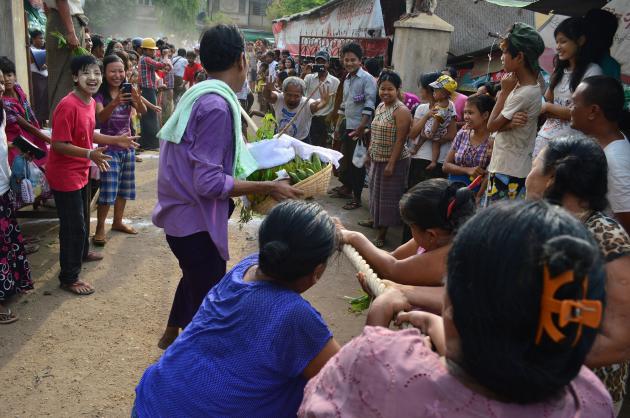 A tug-of-war match near Mingalar Market, Magway Region. /EMG


Magway - In response to rising temperature and aridity in Magway Region, local people here organised a series of tug-of-war games, which is a traditional supplication for rain. From May 16-18, the locals also held ceremonies and prayed to sprits and deities for early rains.
At Thingar Township, men and women of various ages participated.
Khin Win, a 60-year-old woman, said: "I've participated in tugs-of-war since I was young, and I am still doing it. I wish for all citizens in the country to get timely rains."
"Five years ago, we held this festival and it rained on the third day. We need rain to grow crops," said Aung Kyaw Oo, one of the organisers in the township.
Magway, Yenangyaung and Chauk Townships have had no rain yet, but some areas in the region have had some rain. Many farmers in Magway Region had their crops ruined by drought last year.
Monks in Magway have also begun reciting sermons in the hope of spurring rainfall.
30 Viewed
googletag.display('div-gpt-ad-1407393128989-0'); var switchTo5x=false; stLight.options({publisher:'6d3040a3-8e61-4630-98b5-3f5875b38d3e'}); Latest stories in this category
Tug-of-war for early rain
Magway - In response to rising temperature and..
Timber blamed for renewed clash in Kachin State
MP plans bill to regulate jade mining in Hpakant
We Recommend
Yingluck pleads not guilty, gets bail for Bt30 million
FORMER prime minister Yingluck Shinawatra pleaded..
Yingluck warned to attend first day of court..
Ex-Thai PM stresses rule of law
var GcrABTesting = { recHeader: 'More From Nationmultimedia', PubCode: 'pub-1044823792492543', CoReHeight: '225', CoReWidth: '620', mCoReHeight: '250', mCoReWidth: '300', CoReType: 'image_with_title_overlay', CurrentSolution: '', ExperimentTraffic: 1, ControlTraffic: 0, CookieName: 'google_gcr_ab' }; GcrABTesting.commonCode = function() { var ret = ''+''+'.responsive_core { width:'+GcrABTesting.mCoReWidth+'px;height:'+GcrABTesting.mCoReHeight+'px; }'+'@media(min-width: 800px) { .responsive_core { width:'+GcrABTesting.CoReWidth+'px;height:'+GcrABTesting.CoReHeight+'px; } }'+''+'' +TrailingScript; } else if(variation == 1) { return GcrABTesting.CurrentSolution +'' +GcrABTesting.commonCode() +' data-ad-channel="CoRe_Cont">' +TrailingScript +''; } return ""; } GcrABTesting.pick = function() { var variation = GcrABTesting.getCookie(GcrABTesting.CookieName); if (variation) { // Get setting from cookie. return parseInt(variation); } else { // Cookie is not set, randomly decide and set cookie. var r = Math.random(); if (r < GcrABTesting.ExperimentTraffic) { variation_index = 0; } else if (r < GcrABTesting.ExperimentTraffic+GcrABTesting.ControlTraffic) { variation_index = 1; } var d = new Date(); d.setTime(d.getTime()+(1296000000)); // 15 days (15*24*60*60*1000) document.cookie = GcrABTesting.CookieName+'='+variation_index +';'+'expires='+d.toGMTString(); return variation_index; } } GcrABTesting.getCookie = function() { var name = GcrABTesting.CookieName+'='; var ca = document.cookie.split(';'); for(var i = 0; i < ca.length; i++) { var c = ca[i].trim(); if (c.indexOf(name) == 0) { return c.substring(name.length, c.length); } } return ""; } var GcrAB_code = GcrABTesting.getCode(); document.write(GcrAB_code); console.log("GcrAB_code = "+GcrAB_code); if($('#google_recommend').height()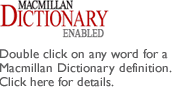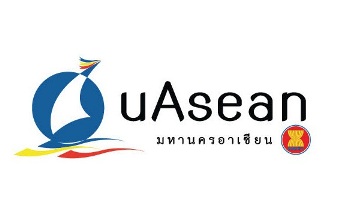 เครดิตและบทความเรื่องอื่นๆของ nation
ดูทั้งหมด
396
views
Credit : nation